JUST $4.99 FOR A LIMITED TIME
For fans of Elmore Leonard, John Sandford, Stuart Woods and Carl Hiaasen comes 
Tom
 Turner's next three killer mysteries. Set in glitzy Palm Beach, Florida, where some locals are as diabolical as they are rich, and sin and scandal lurks around every corner.
Advance readers say:
"Turner's Palm Beach is a blend of desperate criminals, social climbers, merciless billionaires and surprising heroes."
– Publisher's Weekly
"Entertaining and amusing rides."
– Kirkus Reviews
"Taut, efficient procedurals." 
– Booklist
CLICK HERE TO START READING NOW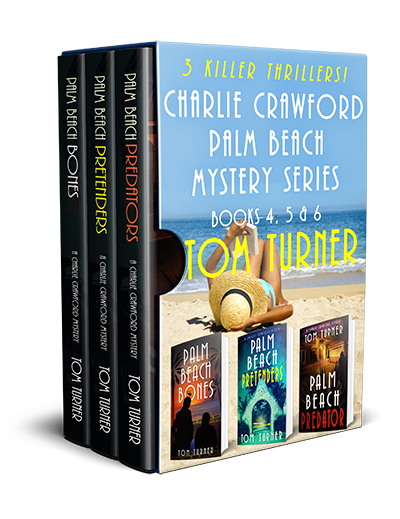 CLICK HERE TO START READING NOW
PALM BEACH BONES
Detective Charlie Crawford is having a tough week. First, Palm Beach's ex-police chief washes up dead on the beach behind The Breakers. Then Charlie's friend's niece is abducted without a trace. As if that wasn't bad enough, his brother just checked himself into a clinic for depression and alcoholism.
The good news is Charlie's love life has never been better…except with the woman he really loves.
PALM BEACH PRETENDERS
Mar-a-Lago…aka the winter White House. You'd think it would be the last place on earth where a double homicide would take place, right? Think again.
How about the line-up of suspects? There's the former porn king of Florida, throwing wild parties with hidden cameras everywhere. The billionaire with all his dirty little secrets. The gambling addict who's in way, way over his head.
And Crawford and Ott trying to get to the bottom of it all.
PALM BEACH PREDATORS
Someone's killing the top real estate agents in Palm Beach, then posing them as figures from famous paintings. And homicide cop Charlie Crawford's on-again, off-again girlfriend could be next.
Crawford is up to his eyeballs in suspects, but way short on clues. There's the polo playboy with the sketchy past. The ex-con with the murderous past. The husband of one of the richest socialites in town. Or someone who might not show up on Crawford's radar until it's too late.